Lottery Bingo
The club has been running a LOTTERY BINGO fundraising game for almost 15 years so it is well established and has generated much needed income to maintain the progress of our Junior and Senior teams. We still need more members and every new member is worth £22 per year (after payout) to the club so just 10 extra members raises £220. Over half of the income is paid out and the more members the bigger the payout, and the more funds we raise, so please join now (and ask a friend or family member to join too).
It's cheap (less than £1 per week), fun (as you get close to winning) and the payout is getting bigger – so please join (see below) and support the club.
It works like this;
You select 6 numbers (1 to 59)
When all your 6 numbers have been drawn on the Saturday lottery (over several weeks) you win the current 'payout fund'
The 'payout fund' rolls over week to week until someone has matched all their numbers
If more than 1 person matches their last number(s) on the same Saturday the 'payout fund' is shared equally
The cost is less than £1 per week to enter.
To make life easy we require payment by standing order so that we don't have to collect money – a monthly payment of £4 on the 1st of the month is all it takes.

CURRENT GAME
After Matt Redgwick's win last week, Game 116 is underway and we have Rob Hoban out in front with 2 numbers. The rest are split equally with either 1 or zero numbers so it is a slow start to this game.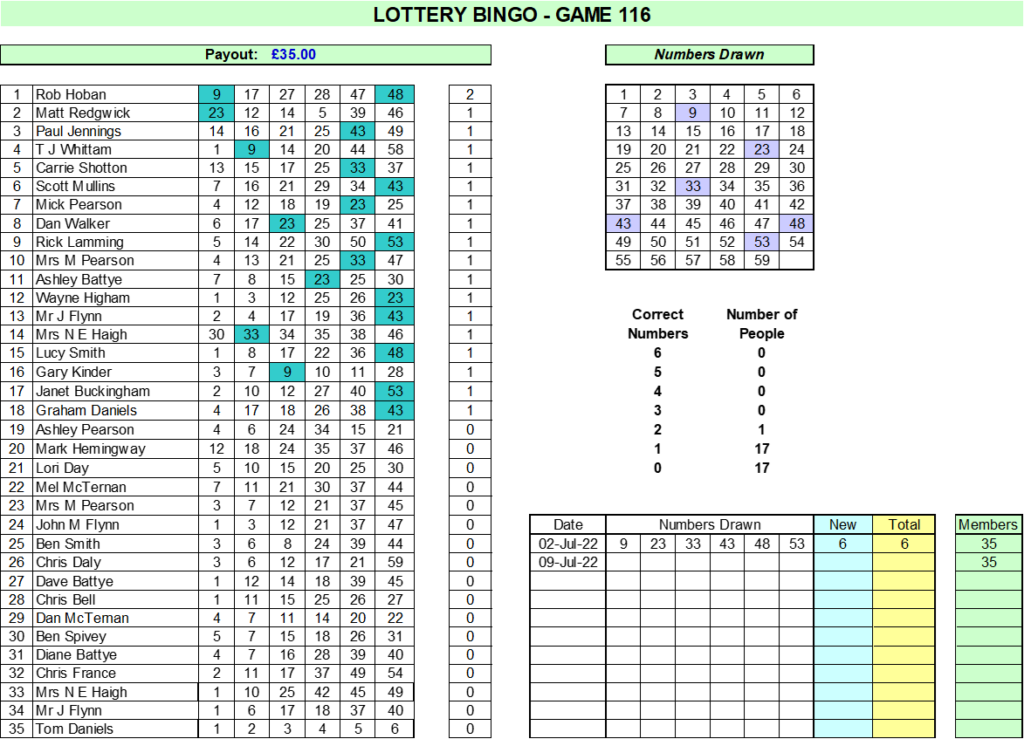 HOW TO JOIN
Set up a standing order with your bank to pay £4 on the 1st of the month to the club bank account:
sort code: 05-09-64
account: 12035497
ref: (your name)
Confirm to Mick Pearson (mickdp189@hotmail.co.uk) by email that you have set up your standing order and provide the following information:

Name
Your 6 numbers (1 to 59) to be entered in the game
Address:
Tel:

If you ever want to change your numbers at any time just let Mick know and they will be changed at the start of the next game.